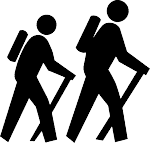 Is the opportunity to step out of your own often well-known story with support and critical questions, and to look at it from a different perspective with renewed insights. Such a different perspective emerges, for example, in the words of poet Muriel Rukeyser : "The universe is made of stories, not of atoms".
When you tell your story, it is sometimes useful if someone else watches and thinks with you. You may want that sparring partner to bring in the necessary professionalism. You can read more about stories and storylines here.

We do 'Out of your story!' during a (approximately) 2-hour walk at a location in nature for you, along beaten or less beaten paths. The location is probably a bit between us, or if you indicate a preferred location, where you want. But always a nice place for a walk and possibly to sit and wind down after the walk.
An 'Out of your story!'  walk of about 2 hours costs € 150, for both private and business clients.


Under 'rates' more information about possible reimbursements.