Sri Aurobindo (born Aurobindo Ghose; 15 August 1872 – 5 December 1950) was an Indian nationalist, freedom fighter, philosopher, yogi, guru, and poet. He joined the Indian movement for freedom from British rule and for a duration became one of its most important leaders, before developing his own vision of human progress and spiritual evolution. Sri Aurobindo synthesized Eastern and Western philosophy, religion, literature, and psychology in writings. Aurobindo was the first Indian to create a major literary corpus in English. His works include philosophy; poetry; translations of and commentaries on the Vedas, Upanishads, and the Gita; plays; literary, social, political, and historical criticism; devotional works; spiritual journals and three volumes of letters. His principal philosophical writings are The Life Divine and The Synthesis of Yoga, while his principal poetic work is Savitri: A Legend and a Symbol.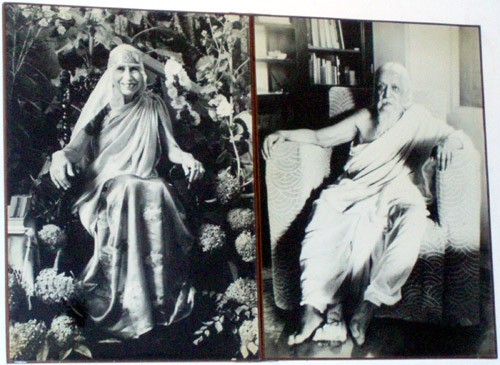 Evolutionary philosophy
Sri Aurobindo argues that humankind is not the last rung in the evolutionary scale, but can evolve spirituallybeyond its current limitations to a state of spiritual and supramental existence. This evolutionary existence he called a "Divine life on Earth", characterized by a spiritualized, supramental, truth-consciousness-oriented humanity.
Process of creation and evolution
He speaks of two central movements in the process of creation: an involution of consciousness from an original omnipresent Reality, manifesting a universe of forms, including matter; and an evolution of those material forms in creation upward toward life, mind, and spirit, reconnecting to their spiritual source. It is also a process of evolution
Involution
The process by which the Energy of creation emerged from a timeless, spaceless, ineffable, immutable Reality, Sri Aurobindo refers to as the Involution. In that process the Reality extended itself to Being/Existence (Sat), Consciousness, that generated a Force – (Chit); and Bliss (Ananda)– self enjoyment in existing and being conscious. Through the action of a fourth dimension, Supermind (i.e. Truth Consciousness), the Force (Chit) of Sat-Chit-Ananda was divided into Knowledge and Will, eventually formulating as an invisible Energy that would become the source of creation. Through its own willful self-absorption of consciousness, the universe would begin as Inconscient material existence from out of that Energy.
Evolution
The process of existence emerging out of the Inconscient is referred as evolution. Initially, it emerges gradually in the stages of matter, life, and mind. First matter evolves from simple to complex forms, then life emerges in matter and evolves from simple to complex forms, finally mind emerges in life and evolves from rudimentary to higher forms of thought and reason. As each new principle emerges, the previous stages remain but are integrated into the higher principle. Humanity represents the stage of development of mind in complex material forms of life. The higher development of mind in the mass of humanity is not yet a secure possession. Reason and intellect still do not dominate the life of most human beings; rather, mind tends to be turned to the purposes of the life principle, which is focused on self-preservation, self-assertion, and satisfaction of personal need and desire. But evolution does not cease with the establishment of reason and intellect; beyond mind are higher levels of a spiritual and supramental consciousness which in the nature of things must also emerge. This higher evolution is described as a dual movement; inward, away from the surface consciousness and into the depths, culminating in the realization of the Psychic Being (the personal evolving soul); and then upward to higher levels of spiritual mind Higher Mind, Illumined Mind, Intuitive Mind, and Overmind), culminating in the final stage of supramentalisation. Whereas these higher levels of consciousness have been attained in particular individuals, they must eventually emerge more universally as general stages in the evolution. When they do emerge, there will come the embodiment of a new species on earth that will be once again united in consciousness with Sachchidananda.
Triple transformation of the individual
Sri Aurobindo's argues that Man is born an ignorant, divided, conflicted being; a product of the original inconscience (i.e. unconsciousness,) inherent in Matter that he evolved out of. As a result, he does not know the nature of Reality, including its source and purpose; his own nature, including the parts and integration of his being; what purpose he serves, and what his individual and spiritual potential is, amongst others. In addition, man experiences life through division and conflict, including his relationship with others, and his divided view of spirit and life. To overcome these limitations, Man must embark on a process of self-discovery in which he uncovers his Divine nature. To that end, he undertakes a three-step process, which he calls the Triple Transformation. (1) Psychic Transformation — The first of the three stages is a movement within, away from the surface of life, to the depths, culminating in the discovery of his psychic being (the evolving soul). From that experience, he sees the oneness and unity of creation, and the harmony of all opposites experienced in life. (2) Spiritual Transformation — As a result of making the psychic change, his mind expands and he experiences knowledge not through the hard churning of thought, but through light, intuition, and revelation of knowledge, culminating in supramental perception. Light enters from the heights and begins to transmute various parts of his being. (3) Supramental transformation — After making the psychic and spiritual change, he makes the supramental and most radical change. It is basically a complete transformation of the mind, the heart, the emotions, and the physical body. You can download most of his books and publications for free at: http://www.demoeder.nl/..
For full reference see: http://en.wikipedia.org/wiki/Sri_Aurobindo Wikipedia, the free encyclopedia Sri Aurobindo's close spiritual collaborator, Mirra Richard (b. Alfassa), came to be known as The Mother simply because Sri Aurobindo started to call her by this name. On being asked by why he called her the Mother, Sri Aurobindo wrote an essay called The Mother in order to shed light on the person of Mirra.