Shadow effect
Every human being has dark sides. If we continue to hide and deny these habits and traits, this becomes a force capable of destroying our lives and those of others. Shadow therefore also has an effect on society, according to Chopra.
Ford speaks from experience – she was once addicted – and makes clear how we make peace with ourselves, others and the world. Ford also developed the group work around the shadow: Awareness and making peace with our dark sides, and tilting its inhibitory effect into strength and love. Williamson emphasizes the power of prayer, penance, forgiveness, and love. After all, only awareness can banish the shadow.
Use the power of your dark side.
The seminar One Life Two Realities was developed from the shadow work of mn. Debbie Ford and enriched with other complementary methods to be able to go through the process in three days, from stagnation and denial to forgiveness, (self)love and goal-oriented strength. The seminar will be given by Sanne Bruijne and Karen Van Heuckelom. You can register via this website.In the three-day group work "One Life Two Realities" you will learn:
recognize and tilt your beliefs and patterns towards the ability to respond flexibly to each event from your own strength;
use your professional skills more effectively when dealing with colleagues and clients;
respond strongly to new opportunities and challenges;
to respond freely and from your own strength to situations that you found difficult in the past.
The movie and the book: The Shadow Effect: 'Illuminating the Hidden Power of Your True Self'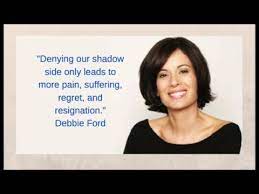 The shadow effect combines the wisdom of three experts and is a practical and in-depth guide to discovering the gifts of our shadow. These three authors powerfully break the veil of our unclaimed selves, delivering us from the past, and propelling us on a journey to wholeness. We no longer live half a life, we are able to realize our dreams and reclaim the happiness that is our birthright.
Title: The Shadow Effect: Illuminating the Hidden Power of Your True SelfAuthors
: Deepak Chopra, Debbie Ford, Marianne WilliamsonISBN
: 9780061962653
The Shadow Effect movie. Learn More at: http://theshadoweffect.com/
Edited by Abby Berendt, Music by Kevin MacLeod